Earring Cards
Now that I've made my earrings, I thought they needed some pretty presentation. So I designed some cards to display them!
Here are some of my other designs for the display cards (eventually complete with where to punch the holes!)
Somewhere to Hang...
I saw these cheap and ornate frames and thought there had to be a use for them? So I decided to spray them dark pink and stick matching pink-sprayed skewers on the back. Voila, instant earring display!
My Latest Earrings
I've made these from recycled paper and plastic printed with my designs (and those of more famous artists ;) ) which I've then edged, laminated or coated with resin domes and hooked onto wires with beads.
Thinking about variations on the pillowcase dress concept!
Still all about the shirring, so thought I'd have a go at adapting this pattern by adding a gathered band to a rectangle bodice and shirring the back?
I've been really into making paper jewellery with my own designs, and using templates has helped a lot!
I laminate the templates (twice for sturdiness) and use a shape cutter to cut them out, then trace the images on my paper.
Here are the earrings I've made so far along with a link to the templates
Just had this idea for how to make a top out of rectangles and shirring! Add a circle skirt and a potentially brilliant dress idea?
I've gotten really into making berets out of old t-shirts lately and thought I'd take it a step further by adding a newsboy style brim.
And how better than to use some upcycled materials?


I've been wanting to make a set of posers for baby shoots for a while and decided to try it out with a big jersey remnant I had on hand.
The whole thing will be covered with an appropriate cloth/fabric depending on the shoot, but I think the 'boppy' style circle poser
will be great with the extra super-soft pillows to pose newborns and babies who aren't quite sitting up on their own!
I've been all about vintage images and decoupage lately, and have been experimenting with creating floral frames
for some fabulous old photographs. Feel free to use the images below in your work

Well, it's been a while, but I thought I'd update this blog with some of the things I've made from my Pinterest explorations!
I really love some of the creative things I'd seen on Pinterest using bottle caps, so thought I'd try some of my own! After bending out the edges of the caps, I spray painted and hammered them out to create frames, then cropped some of my favourite artwork and made a template enabling me to punch them out with a 1" circle punch. I then either added resin or (once I discovered them) covered the images with clear domed stickers. Then I punched a hole in the cap and, hey presto, the arty and upcycled pendant on the left! I used the same technique with jewellery frame trays for the other earrings and necklace.
One inch punch bottle cap and frame jewellery
I've been all about upcycled crafting these days and as I have (far too) many pens, brushes and cutting tools, organising them into containers has been a challenge!
But an easy, cheap and green way to make pretty storage is to use upcycled cans. So I've been creating 'vintage' can labels (I'm on French and Old Seed Catalogue themes at the moment) in Photoshop and putting them on recycled cans that I've spray painted gold (or black, as the mood hits) and then covered with clear contact paper.
(And I couldn't resist making the dyed coffee filter roses as they go so well with this 3 image label - just turn it around and it's a whole new ornament)!
'Vintage' Cans
Not a plastic bottle hits the recycling bin these days! One of my favourite projects has been making beads from the aforementioned.
This involves cutting the bottles into strips, wrapping them around needle nosed pliers, and heating them with a heat gun until they shrink.
The green one in the photos on the right was made with a green (well, I guess that's obvious) bottle, and for the pink one, I used a clear plastic bottle and smeared pink nail polish on the inside of the bead before heating. I like the smearing vs painting as it gives each bead a unique level of colour and transparency.
I love the look of these glass-like beads and the fact that they're upcycled (even the beads between were charity shop finds)!


Plastic Bottle Beads
Having found a stash of paper clips, I also made necklaces using these strung together and decorated. I used decorated duct tape on the first necklace, then created my own pattern and 'sealed' them on the clips with clear contact paper (one of my new favourite things!) The foam rose pendant was made by that Pinterest-popular method of twisting & rolling. I then hot glued the roses to another bit of foam, added a bail and, voila!
Paper Clip Necklaces & Foam Rose Pendant
My current favourite jewellery upcycle is paper bead making. The grey and turquoise patterned ones were made from 2 different patterns I created and printed on recycled paper, rolled, varnished and strung with found coloured and silver beads. I really like the versatility of this craft and have made a pattern for the beads as well as a cutting guide for the various sized and shapes.
Paper Beads
Well, I've managed to accumulate a LOT of craft materials (finally collected enough pop tops for the bracelet), yet am
ever on the lookout for more! There are just so many great ideas out
there for Christmas crafting.
Here are some of the things I'm working on or about to work on this month...
How cute are these miniature gift boxes? I've already printed a few
and am thinking about making more in other patterns for the rest of the year.
And as I'm a photographer, I do love to see any new ideas for displaying photographs, like this great one for DIY Foam Canvas Prints
And I think I need to make Homemade Body Butters for gifts (and for myself)! Maybe you could scent these with your favourite essential oils?
I'm fairly new to blogging, which is rather unusual as I usually try out any and all new means of communicating as soon as I hear of them. Until recently, I'd mainly only read blogs about photography, as this is my job (and passion).
But then a friend invited me to join Pinterest and suddenly I was reading blogs about everything from upcycling plastic spoons into rose brooches
Melted Plastic Spoon Brooch
to how to make taco cupcakes. I was well and truly hooked, and now find I'm addicted to the whole upcycle/DIY phenomenon!
Suddenly I'm scouring the recycling bin for potential jewellery and raiding my boyfriend's closet for possible wardrobe additions. No longer do I only seek out tripods and flash head stands on eBay. Not when there are chains, clasps, beads and bangles to be had there to add to the (rapidly increasing) pile of 'craft supplies' now given their own space in a corner of my office. And that would include colourful magazine pages, enabling me to make these paper beads.
Magazine Paper Bead Bracelet
I'm sure the recycling people will be pleased to see my near-empty bin on collection day. Now if I can only collect enough soda can pull tops to make a bracelet
Pop Top Bracelet
Plus, the cans themselves can be cut to make flower pendants!
Found a pilates ring in the sales today, so thought I'd make the £2.00 investment
and gather some images to try it out! Here's to arms of steel this summer?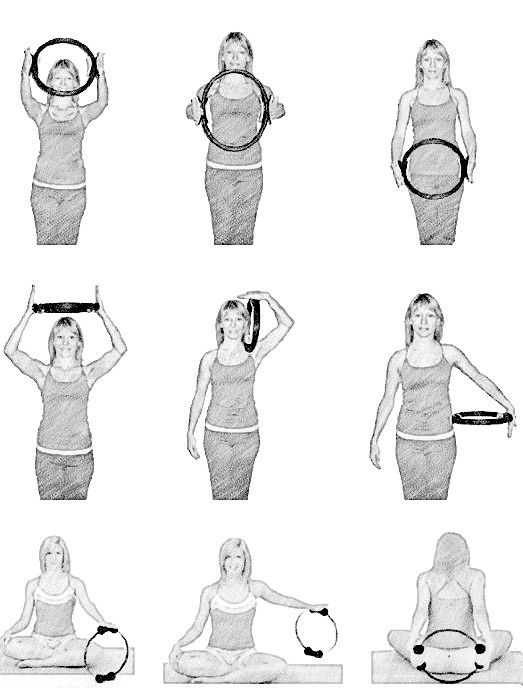 Lynn Herrick is a professional, experienced headshot photographer in London specialising in
Actor/Actress, Musician, Model, Singer, Dancer, Performer, Journalist and Presenter head shots.
Lynn shoots professional colour or black & white spotlight ready 8x10 headshots for castings & auditions and to use online.
Lynn also creates head and shoulder portraits for corporate and PR clients, web profiles and personal websites.
North London Photography and London Headshot Photography - 0208 349 3632
9a Sylvester Road | London N2 8HN
Copyright © Lynn Hammarstrom-Craggs 2017